Ai Weiwei/艾未未 Marches On – Portraits for Foreign Policy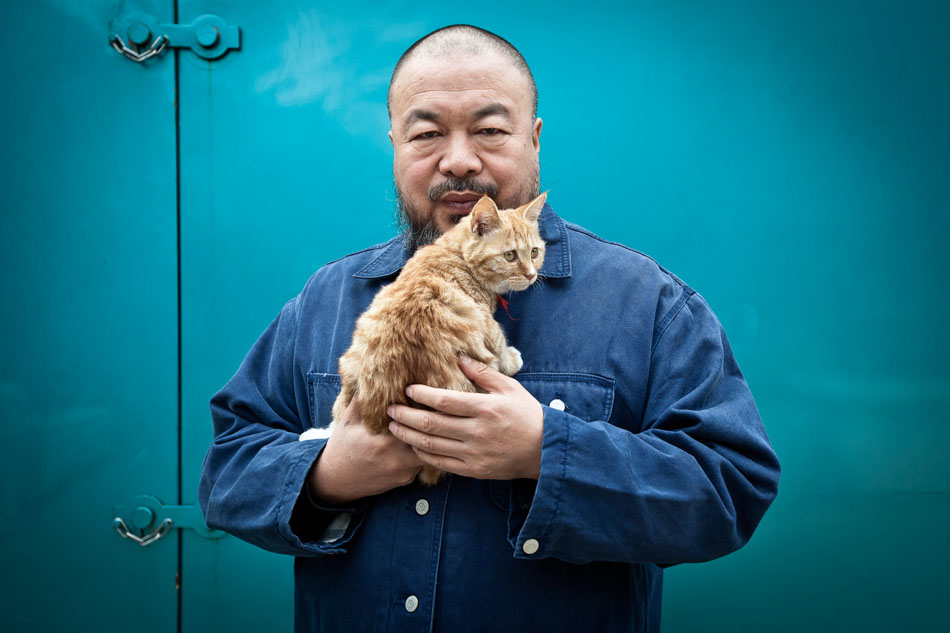 A few weeks ago I had the pleasure of visiting Ai Weiwei in his studio to take portraits for Foreign Policy's Top 100 Global Thinkers list where he appeared at #18 in the rankings. He was very amiable and open to me directing him about his compound where I posed him with some of his favorite cats. Ai Weiwei is all over the news again. After a short period of silence following an 81-day incarceration, he continues to lash out at authorities and decry the trumped-up charges of tax evasion brought against him in an attempt to silence his outspoken criticisms. A recent Newsweek piece he penned where he related Beijing to a "nightmare" was especially noteworthy. This renewed vigor and boldness seem in large part due to the outpouring of support shown by anonymous Chinese donors who rallied behind him to raise $1.4 million to challenge his huge tax bill which he refers to as ransom money. Other admirers are finding more brazen outlets to show support by posting nude photos of themselves online in defense of other spurious pornography charges brought against Ai Weiwei for a set of revealing self portraits released on the Internet. To make things even more controversial, high profile figures are weighing in on the situation, including Taiwan's president Ma Ying-jeou who visited his current exhibition at the Taipei Fine Arts Museum. It's all quite a mess, but I am sure Ai Weiwei is pleased with himself for creating an even larger fuss than before his arrest – another great case of censorship backfiring in the face of the Chinese state.
In a crazy sense I think the political space in China has truly transformed Ai Weiwei's life into an interdisciplinary work of art or a "social performance" as he calls it. His invocation of the Chinese state's ire came through a combination of critical sculptures, writings, photographs, videos and installations. While these separate pieces might not be interdisciplinary in nature, they have brought about a dynamic where every action or utterance of Ai Weiwei becomes performative in nature and open to intense analysis by journalists, officials, police and, increasingly so, the general public. His identity remains at the center and activates all of these mediums of expression, especially through the Internet which exponentially magnifies his impact. In a statistical sense, Ai Weiwei is not well known in China. Still, he is making waves where it counts and China's intelligentsia is taking note. These are the people fashioning the new China, and his stand against censorship and political suppression is singular. By tapping into a populist sentiment with his donation drive, he is putting officials even more on edge. It's a very crucial moment for Ai Weiwei right now. There is still a very distinct possibility he might disappear again.
In other Ai Weiwei news, my friend Alison Klayman's documentary, Ai Weiwei: Never Sorry, is set to premiere at the Sundance Festival in January. Check out the trailer and her appearance on the Colbert Report. It is very timely and should be a great film.