"Tigress Tycoons" for Newsweek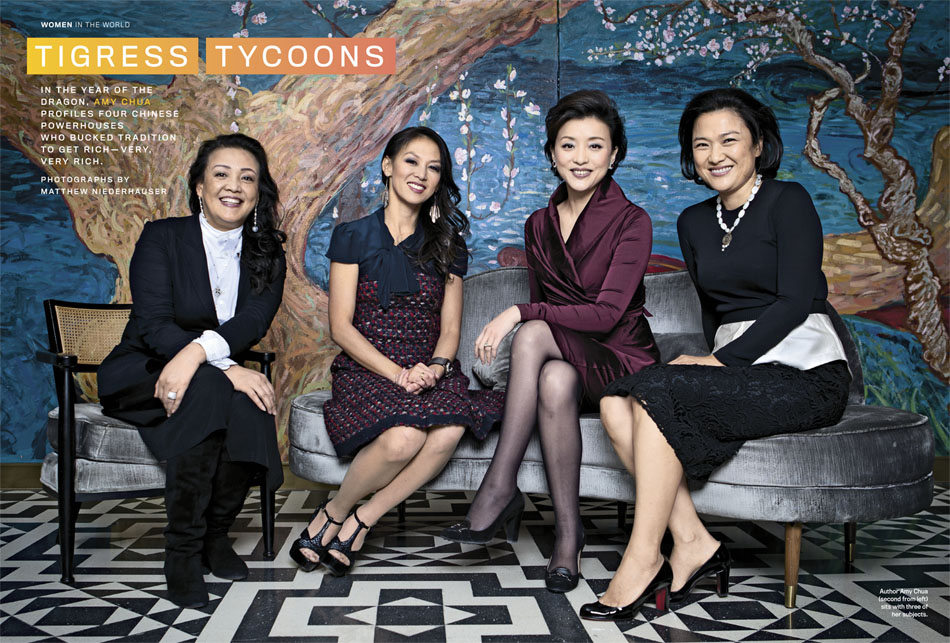 This was one of my most intimidating assignments to date: a portrait of three of the richest females in China along with Amy Chua, the author of Battle Hymn of the Tiger Mother, in less than ten minutes before their power dinner. It really was a Tigress Tycoons showdown. The leader of the streak, in my eyes, was Zhang Xin/张欣 (far right). Her company, SOHO China, is easily one of the top real estate developers in China, building some of the most daring (and sometimes dastardly) megablocks in the country. These properties reshaped Beijing's skyline and netted her about $2.7 billion. Forbes and the Financial Times consistently list Zhang Xin as a top businesswomen in Asia. Her biography is also staggering. She saved up money working in Hong Kong garment sweatshops before moving to England to study at Cambridge and on to New York City to work at Goldman Sachs. Amazing. Next to Zhang Xin is Yang Lan/杨澜, also know as the "Oprah of China" thanks to her massive television presence and media empire. While not a rags to riches story like Zhang Xin, Yang Lan hit it big on Chinese domestic television, sometimes garnering viewing audiences in the hundreds of millions. She was one of the first talk show hosts in mainland China who really spoke her mind and cofounded Sun Television Cybernetworks.
Last and certainly not least of the Tigress Tycoons is Zhang Yan/张兰 (far left). She founded the popular South Beauty restaurants with now boasts over forty locations throughout the country. Known for their opulent settings, they also serve up extremely tasty Sichuan fair. Zhang Yan completed the female power trifecta. Amy Chua is nothing to scoff at of course, but fits into a different category with her academic and literary accolades. Her book promoting the "Tiger Mother" parenting method  sent waves around the world, especially in mainland China. There is even now an "Eagle Dad" spinoff category. Anyway, it was a bit tense at first getting all the ladies together, but thanks to the antics of Zhang Xin's husband, Pan Shiyi, who decided to take photos along with me, the ten minutes passed without a hitch. Be sure to check out Amy Chua's accompanying profile of the Tigress Tycoons.