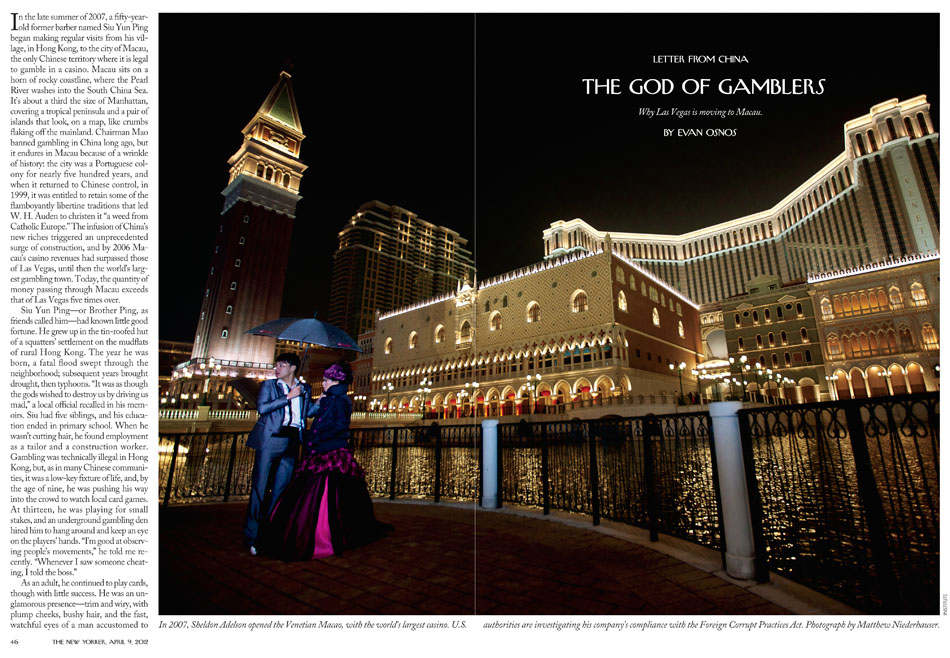 Macau looms large on the iniquitous edges of Asia. It is a city of sin: filled with casinos, prostitutes and any other vice or luxury one could imagine. In many ways this is business as usual. Trafficking of women and general skullduggery date back to the earliest days of the Portuguese colony at the turn of the 16th century. Now the stakes are much higher though, and for many visitors, money is not an object. Macau currently draws the biggest "whales" in the world and most of these high rollers come straight out of mainland China. The increase in gambling revenues in Macau is unprecedented. Galaxy Entertainment tripled its profits during 2011, and the entire casino industry is already up 20% in the first quarter of this year compared to last. Macau outperforms the Las Vegas Strip nearly six times over and there is no end in sight.
The already outrageous revenues posted by Macau casinos also appear to be the tip of the iceberg. It is largely acknowledged that a massive amount of cash moves through V.I.P. gambling rooms where high-stake bets are off the books. No one knows how deep that well goes. Money laundering and connections to triads run rampant through the "junkets" who shuttle wealthy mainland Chinese gamblers into Macau and collect their debts elsewhere in order to bypass currency limitations at the border. Macau is riding the tails of China's economic boom and catering to the extravagant tastes of the Chinese nouveau riche looking to flex their often illicit financial muscles.
At the top of the pyramid are two of the world's richest men: Steve Wynn and Sheldon Adelson (also the largest contributor to Newt Gingrich's campaign efforts). Both are in heated competition to rule Macau as their fortunes continue to skyrocket despite serious allegations of corruption and a spotty track record. A WikiLeaks spinoff called CasinoLeaks – Macau offers up condemning fare based on collected public records. Be sure to read Evan Osnos' article in The New Yorker that features my photography. He does an amazing job navigating this intricate web of sordidness. More photographs that didn't make the cut can be seen below.